Marilyn Monroe - The Blonde Bombshell
Published on February 2nd, 2021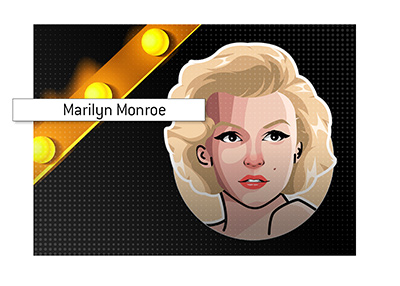 Marilyn Monroe is one of the most recognizable names in American history. Despite only living for 36 years, she managed to leave a lasting impact on American cinema and culture long after her death.
Monroe was born as Norma Jeane Mortenson to Gladys Baker and an unknown father. She grew up in a variety of unstable situations, including an orphanage. She married for the first time at 16, although it wouldn't last.
Monroe started modelling for David Conover, who was taking pictures for the U.S. military. Through these modelling gigs, she signed with 20th Century Fox under the stage name "Marilyn Monroe". This name, funnily enough, was not chosen by her. The first name was chosen by an executive of 20th Century Fox, while Monroe came from her mother's maiden name. She appeared in bit part roles in films like Dangerous Years and Scudda Hoo! Scudda Hay!
However, it wasn't until the 50s that she made her impact. With her newly dyed (and later iconic) blonde hair. Her popularity was boosted by a scandal of her posing nude for a calendar, taking the top spot as the sex symbol of America. Yet she continued to perform new roles and improve her acting. She starred in wildy successful films like Don't Bother to Knock, All About Eve and The Misfits.
During all of this, she had a very active romantic life, which many people took an interest in. She married baseball player Joe DiMaggio before divorcing him and marrying Arthur Miller (which would end in divorce again).
Monroe's life ended on August 4th 1962, with acute barbiturate poisoning. Despite the conspiracy theories that arose about foul play, evidence has clearly shown that it was a probable suicide overdose.
Monroe has been the subject of plays, films, books, songs and more. She is a symbol of American culture and remains so to this day. Not only does she bring arguments about film, but discussions about mental health and how fame can affect it. Only figures such as Michael Jackson and Elvis can claim to rival her in terms of their legacies.
--