Definition of High Roller
What does the term "high roller" mean in the casino world? What is the definition of the term "high roller"?
A "high roller" is somebody that makes big bets at a casino.
A "high roller" is somebody who plays $1,000 a hand of blackjack, risks thousands of dollars with each spin of the roulette wheel or plays high-limit baccarat.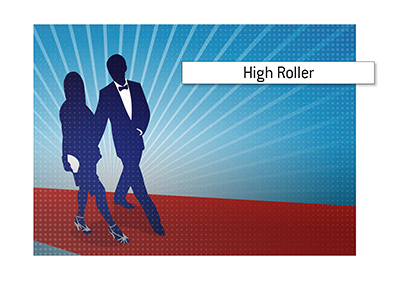 "High rollers" are coveted by casinos, as high rollers generate large amounts of revenues for the casino. A high roller is somebody with deep pockets to play high stakes, though this doesn't necessarily mean that they are winning players.
Casinos will roll out the red carpets for high rollers. This can include free hotel rooms, free food or even free private jet rides to the casino.
High rollers will often be granted credit by the casinos in order to get them to keep playing. High rollers are worth a great deal of money to casinos, so they are treated like royalty.
-
In many cases, casinos will host private games for high rollers. This will include the best dealers, super high limits and as much free food/drink as they want.
Las Vegas and Macau are two places that do their best to attract high rollers from all across the world.