Definition of Reload Bonus
What does the term "reload bonus" mean in the world of online casinos? What is meant by a "reload bonus"?
A reload bonus is quite simply a bonus that online casinos will offer customers who have ALREADY deposited at least once on the site, and perhaps have low account balances.
For instance, let's say that you deposit $100 on a site to take advantage of their first-deposit bonus. You play for a bit, withdraw some money and leave with a $0.00 balance.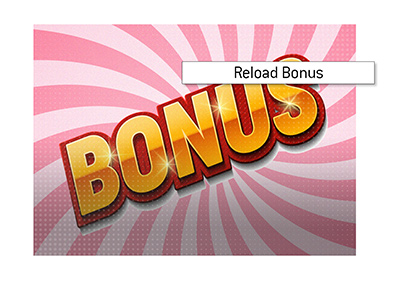 The online casino, in an attempt to get you playing on the site again, might email you with a reload bonus offer.
They might say something like - deposit on our site again and we'll give you the opportunity to earn a 200% reload bonus, assuming that you play enough real money games to qualify.
This is a reload bonus - the sites want you to "reload" your account with a fresh deposit, and will offer you an incentive to do so.
There are no strings attached with these reload bonuses. All you have to do is play enough on the site to "earn" your bonus.
This is the "reload bonus", and most sites will offer it.
If your site doesn't offer this, email customer service to see if they have something available, as most sites will accommodate their players, especially ones who have put in decent volume on the site.