Lightning Roulette Combines Roulette With Big Payouts of Slot Machines
Click Here To Play Lightning Roulette on Stake!
Lightning roulette is an incredible live casino innovation that renders traditional roulette quite boring.
In fact, Evolution Gaming, the maker of Lightning Roulette, won multiple innovation awards for their Lightning Roulette product.
Thankfully, Stake.com offers Lightning Roulette, and it is one of their most popular games.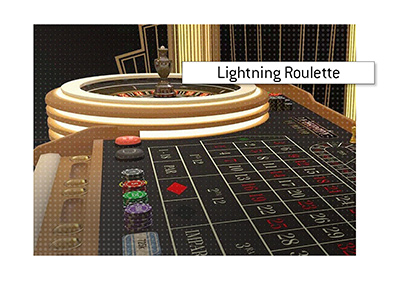 -
What exactly is Lightning Roulette?
Combine your traditional European roulette with a game slow and the high payouts of slot machines, and you have Lightning Roulette.
With Lightning Roulette, a random number of "Lucky Numbers" between 1 and 5 is generated with each spin of the wheel, and these lucky numbers have "Lucky Payouts" associated with them.
These lucky payouts start as low as 50x and go as high as 500x.
These Lucky Numbers apply to people who are putting down straight bets.
So, your traditional straight bet on a number would pay out at 30-1.
With Lightning Roulette, your potential payouts increase dramatically.
So, let's say that you put down $100 on the number 3.
3 is chosen as one of the lucky numbers for a spin, and this lucky number is randomly assigned a payout of 500x.
So, if the 3 hits, you would receive a 500x payout on your $100 bet, or $50,000.
It should be noted that these Lucky Numbers only apply to straight bets, so if you are betting on red/black, odd/even, etc., you would not qualify.
-
Lightning Roulette also has a massive multi-player aspect as well, as virtually an unlimited number of people can play at the same time.
This is a live casino game, so you will have a real croupier spinning the wheel each time.
Bets are handling automatically, so this results in a large number of spins per hour.
The "Lightning" part of Lightning Roulette also refers to the number of spins that took place in an hour, as the action is sped up to fit in as many spins as possible.
-
Lightning roulette is an incredible innovation and can provide hours of fun.