Muhammad Ali - In the Spotlight as an Athlete, Philanthropist, Anti-War Protester and Civil Rights Figure
Published on February 11th, 2021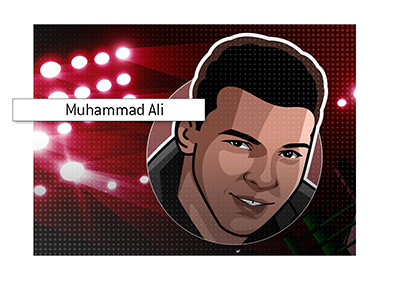 Cassius Marcellus Clay Jr., better known as Muhammad Ali, is perhaps the greatest boxer of all time. He not only is held up as an icon of the sport, but also as an icon of racial pride, civil rights and integration of black and white cultures in America.
Clay made his professional boxing debut in 1960, going undefeated until 1963, with 15 knockouts.. This led him to challenge Sonny Liston's heavyweight title and win it at the age of 22. He changed his name soon after and remained undefeated for the next 2 years.
However, he was stripped of his title after refusing draft services and did not fight for a whole 3 years - robbing him of some of the dominance he could have achieved. During this time, he joined in protest against the Vietnam War. He finally returned in 1971 with a fight against Joe Frazier, which became his first loss. Ali would return to win his second championship belt against George Foreman.
By 1978, Ali was in Las Vegas preparing for a fight against Leon Sprinks. He lost by split decision against Sprinks, who had only 7 professional fights to his name. He won a rematch to regain the heavyweight belt for a record 3rd time. By 1980, Ali fought another time in Vegas, easily losing to Larry Holmes after being affected by Parkinson's and leftover medication.
Ali finally retired after a last fight in 1981, winning 56 fights (37 by KO) and only losing 5. He has led a life that many can only dream of, being in the spotlight as an athlete, philanthropist, anti-war protester and civil rights figure. In all of these aspects, and more, there shall only ever be one man at the top: Muhammad Ali.
--