One of the Greatest Magicians of the Modern Era - Criss Angel
Published on February 22nd, 2021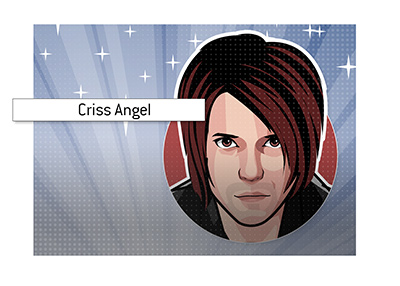 If you met Christopher Sarantakos in the street, you might not know who he is. However, Criss Angel is one of the most famous magicians in modern America. He might have started in New York, but he now entertains vast crowds around Las Vegas with his various tricks and shows.
Angel first appeared on TV in 1994 on ABC's special Secrets. During this early period, he also formed a musical duo with Klayton Albert to form Angledust. His first big appearance came in 2002. He spent 24 hours shackled underwater in Times Square, making it his first national stunt.
Angel's first introduction to Las Vegas was with the A&E show Criss Angel Mindfreak, which was filmed at The Aladdin casino. In the third season, the location switched to the Luxor hotel and casino. This show was named one of the best in the world and widely praised. It lasted from 2005 to 2010, and by the end Angel had been featured for more hours on prime time TV than any other magician in history.
Las Vegas has remained the home of Angel in recent times. Stage shows like Mindfreak LIVE! (2014) and The Supernaturalists (2015) have been some of his recent projects,both being widely praised as a return to his prime form after many years.
Criss Angel continues to perform in Vegas to this day. Over his career he has sawed himself in half, walked on water, escaped a blown-up building, and gotten run over by a steamroller. He is truly one of the greatest magicians of the modern era and quite possibly of all time, all thanks to his ability to display something new each time he steps onstage.
--