Sammy Davis Jr. Left a Legacy of Fantastic Entertainment
Published on February 25th, 2021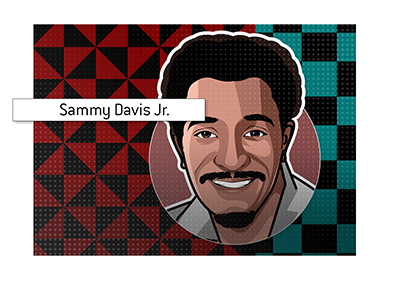 Sammy Davis Jr. was an entertainer who captured the attention of the United States for around 40 years by performing songs, acting, dancing and using comedy. He famously became part of the Rat Pack alongside Frank Sinatra, Dean Martin, Peter Lawford and Joey Bishop in Las Vegas.
He learned to dance from his father, who took him on tour as a child in order to not lose custody of him. Davis was drafted into the U.S. Army during World War II, where he performed in front of soldiers. Once out of the army, he went back to dancing and performing. During the next 12 years, Davis would bounce around, performing on shows like Three for the Road- with the Will Mastin Trio, starring in Broadway musicals like Mr. Wonderful and other entertainment events.
It wasn't until 1959 that Davis joined his friend Frank Sinatra in Las Vegas for the Rat Pack. They made movies like Ocean's 11, Robin and the 7 Hoods, and performed in the various casinos around Las Vegas. Davis even headlined at The Frontier Casino, despite the Jim Crow practices still in place at the city. During his time in Vegas, he earned the name "Mister Show Business". Davis' popularity didn't wane in Vegas, although the 60s and 70 saw his decline (with the exception of his surprise No. 1 hit "The Candy Man").
Davis faced the medical issues of both cirrhosis and eventually throat cancer, both of which prevented him from performing in his later years. It was the latter that would kill him. After his death, he was awarded the Grammy Lifetime Achievement Award in 2001.
Davis left a legacy of fantastic entertainment to all of the United States. He performed in so many different fields and did it so well, that it is impossible to ignore his impact.
--