Atlantic City, New Jersey - A City That Inspired the Monopoly Game
Published on March 4th, 2021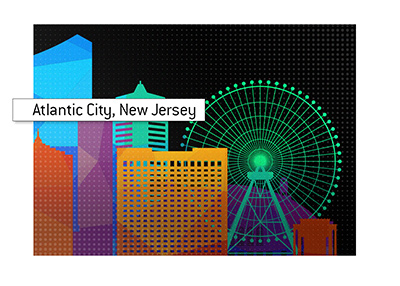 Atlantic City is a fascinating place. A city in New Jersey that was resurrected thanks to its legalization and subsequent devotion to gambling. Not only does this town offer the chance to game for days, but it also serves as a resort town on the beach.
The city grew extremely quickly in the early 20th century, although after World War 2 it started to face some problems with crime and poverty. It wasn't until casino gambling was made legal in 1976 that the city started to see a resurgence in popularity. The first casino to open in the city (and along the entire East Coast of the United States) was the Resorts International in 1978.
The Borgata Hotel Casino & Spa is the highest grossing casino in Atlantic City, offering 4,000 slot machines, 180 table games, and 50 poker tables. It also has a sportsbook called the Race & Sports Book. Other huge casinos like Caesars and the Tropicana offer different themes based on what you are feeling like spending time in (in this case the Roman Empire and Havana, Cuba).
Atlantic City did not totally eliminate many of the problems with the legalization and focus on gambling. Las Vegas continues to be more popular thanks to the variety of activities besides betting and gambling. Problems with lower casino attendance and natural damages over time have also meant that a large number of casinos have gone out of business in the resort city.
The city that inspired the Monopoly game was always going to be a place where people went to spend money. While it might be less popular than Vegas in the modern day, there was a time when it was the shining jewel of American gambling and gaming.