Marina Bay, Singapore - One of the Largest and Most Luxurious Casinos on the Planet
Published on March 5th, 2021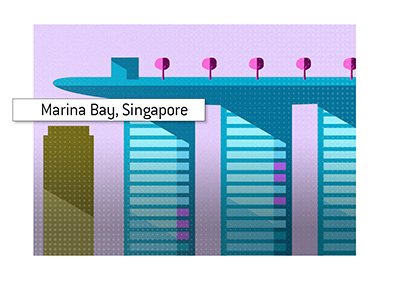 Marina Bay might be one of the more famous locations in the world. Those huge towers standing out in the night have appeared in popular media like The Grand Tour, Crazy Rich Asians (2018) and Independence Day (2016). It also serves as one of the largest and most expensive casinos on the planet, costing an estimated $6.88 billion (at its opening). The Marina Bay Casino certainly deserves its turn in the spotlight.
The Marina Bay Casino has 4 different levels of gaming, with 2,300 different slot machines available. Multiple versions of poker, baccarat and blackjack are all available, as well as roulette, craps and more. You can find just about any sort of mainstream gambling in this huge space dedicated to gaming.
Then there are the 200 exclusive games that are available in the High Limit, Ruby and Paiza areas. Of course, these are located on the exclusive upper levels and probably not going to be available for the large part of the populace. It isn't just super luxury purchases that you can make either, as there is also a wide range of betting levels for the different games.
The Marina Bay Casino is part of the Marina Bay Sands resort, giving visitors plenty of other activities to take part in alongside the standard gambling. There is the 340-metre-long (1,120 ft) SkyPark that you can look out over Singapore on, or take a swim in the 150 m (490 ft) infinity swimming pool. Then there are all the shopping centres and more resort elements that you'll find in the area.
The Marina Bay Sands Casino might not hold up to the other Southeastern Asia gambling location (Macau), but no other locations really can. It does stand on its own as a fantastic location to visit and can grant anyone a memorable experience at the tables and/or slot machines.