A Night to Forget - Shooting of Tupac Shakur
Published on March 16th, 2021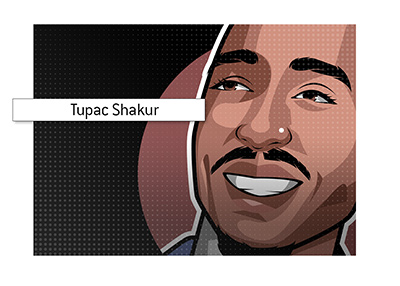 Tupac Shakur is one of the most renowned names in music. Whether it is for his hip hop music and presence on the musical scene or the memes about him not being dead, he still holds a large presence in the modern day. Of course, memes and conspiracy theories aside, Shakur was fatally shot in Las Vegas on September 7, 1996.
Shakur was at a fight between Mike Tyson and Bruce Seldon at the MGM Grand on the night of his murder. When a rival gang member appeared in the MGM Grand lobby after the match, Shakur attacked him before leaving with Marion "Surge" Knight.
These two would be halted at 11:00 pm by police officers for playing music too loudly, but were let go. About 10 minutes later, they were at a stoplight chatting with some women who had pulled up on the left side of their car. On the right, a white Cadillac pulled up and a shooter fired a .40 caliber Glock 22 multiple times, hitting Shakur 4 times.
Knight took Shakur to the hospital, despite a flat tire and injuries from fragmentation. Despite intensive care, Shakur was officially pronounced dead after cardiac failure on the afternoon of Friday, September 13th, 1996.
The perpetrators of the murder have never been found. The closest that authorities have come to finding the murderer of Tupac Shakur is when a Crips gang leader Duane "Keefe D" Davis claimed to be in the same car. However, he would not name the shooter.
A night in Vegas that some would like to forget, but one that still plays an impact today. Tupac Shakur's death took a toll and played a part of the next many years of hip hop.