The Most Influential Poker Player in the World - Doyle Brunson
Published on March 18th, 2021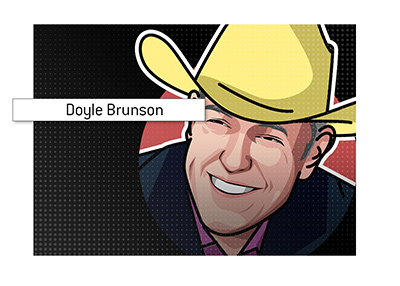 Doyle Brunson might have retired from the game of poker, but he made sure to leave his mark. He was the first to win $1 million in poker tournaments, as well as writing several books on poker.
Brunson dreamed of being a professional NBA player before a knee injury ruined those chances. He played poker and started winning money to help pay for injury expenses. One step led to another and he eventually left his job to become a professional poker player.
While Brunson has played in almost every World Series of Poker Main Event since 1970, it took him until the 1976 edition to actually win a bracelet. However, once he did win that first $5,000 Deuce to Seven Draw in 1976, it all kicked off. Brunson won 5 bracelets over the next 3 years. This period of success was followed up with a few more bracelets in 1991, 1998, 2003 and 2005, but there was never the same back-to-back success that he found in the late 70s.
One of Brunson's other most important contributions to the world of poker was his self-published book Super/System. This 1978 book gave an insight into how professional poker players thought and played, giving regular people an idea of how to "properly" do so. An updated version of the book was published in 2004 with chapters from other players like Bobby Baldwin, Chip Reese, and Joey Hawthorne.
As of 2018, Brunson's total live tournament winnings exceed $6,100,00. While he says that his book might have cost him millions, it let others see the game how he did. It seems only right to agree with Bluff Magazine's 2006 vote of Brunson being the world's most influential poker player.
--