Baden-Baden is the Place to Gamble in Germany
Published on March 19th, 2021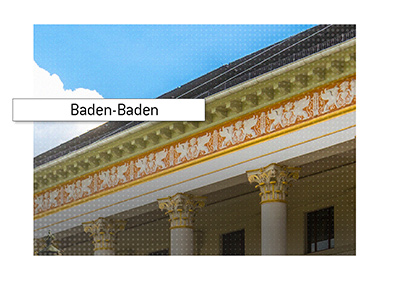 Germany might not be the first location when people think of gaming and gambling. However, the Kurhaus of Baden-Baden on the outskirts of the Black Forest might just fill that need.
The main structure was designed almost exactly 200 years ago by Friedrich Weinbrenner. It was his influence that inspired the Corinthian columns and other grand elements of the interior. The casino began to amass international fame when gambling was made illegal in France. Therefore, wealthy gamblers made frequent journeys across the border to bet their fortunes at this casino.
Gaming is not all the Kurhaus has been used for. Fans of The Queen's Gambit might find the international chess tournament held in 1925 interesting. Then there was an Olympic Congress in 1981, before a NATO meeting was held in 2009.
Modern visitors to the casino require valid IDs to enter, as well as smart clothing like a jacket and tie. These can be rented at the desk if none are on hand. Once in the casino, visitors have the option of playing classic table games or attending the slot machines. The table games are limited, with poker, blackjack and roulette being the options. Then there are 140 different slot machines that aim to lend a Las Vegas feel to this German casino.
Las Vegas and Macau might always hold the title for flashiest gambling zones, but there is something refreshing about the calm and luxurious feel that the Kurhaus offers. It feels old, yet new at the same time. Baden-Baden is sure to be an interesting spot for anyone looking to get away for a bit of gaming in Germany.