A Tropical Paradise in the Middle of a Desert
Published on March 22nd, 2021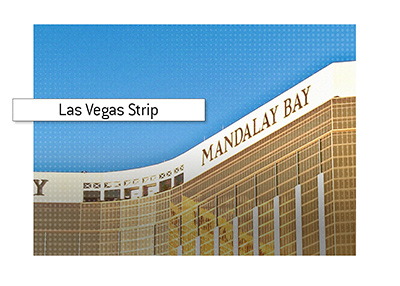 The Mandalay Bay Resort and Casino is one of the giants of Las Vegas. Originally owned by Circus Circus Enterprises and later sold to MGM Mirage, this resort is now a staple of the Las Vegas fantastical locations.
Mandalay Bay takes its tropical inspiration from the Rudyard Kipling poem "Mandalay". One of the main attractions is the Mandalay Beach. It is an 11-acre pool area with heated pools, a wave pool and a lazy river. The Mandalay Bay Events Center also holds events like concerts, UFC events and the Miss Universe pageant. There are also a variety of restaurants, bars, lounges and retail shops all attached.
The casino of Mandalay Bay is perhaps not as famous as those in sites like the Bellagio, but there is still an abundance of gaming and gambling to be experienced. There are over 1,200 different slot and video poker machines to pick from inside. If the electronics are not to your preference, perhaps the myriad of table games would be ideal. There are craps, baccarat, roulette and blackjack all available to test your hand at, as well as a cheaper range of poker hands. The primarily Texas Hold'em style game has a price range of $50 - $500. Sports betting is the last of the major ways to win money at the Mandalay Bay Casino.
A tropical paradise in the middle of a desert? Sounds too good to be true. Fortunately, the Mandalay Bay Resort is no mirage. Anyone looking for a nice vacation to splash around and gamble might want to look at this casino.