Dean Martin Dominated the Vegas Entertainment Scene in Mid 20th Century
Published on March 26th, 2021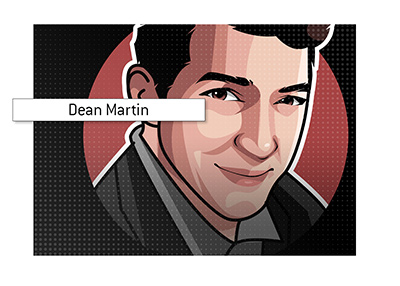 Dino Paul Crocetti is probably better known by his name Dean Martin, or even his nickname of "The King of Cool". This singer, comedian and actor dominated American entertainment throughout the middle of the 20th century.
As a youth, Martin messed around with amateur boxing alongside his burgeoning show business. It wasn't until 1946 that he teamed up with comedian Jerry Lewis, forming a music-comedy duo. The team lasted for 10 years exactly, raising the fame and wealth of both partners.
Martin's solo film career didn't particularly launch him into stardom, but it paid the bills. What did raise Martin to the next level of fame was his singing and his comic performances in Las Vegas. He had learned from his decade with Lewis, becoming as smooth a comic as he was a singer. By the 1960s, Martin formed the Rat Pack with Joey Bishop, Sammy Davis, Jr., and Peter Lawford. These performances would dominate the Vegas entertainment scene and go down as some of the most popular American performers of all time.
Even once the Rat Pack had split apart, Martin continued to entertain. He won a Golden Globe for The Dean Martin Show, which ran from 1965-1974. Even in Martin's later career, he was recording albums like Once in a While (1974) and performing at the MGM Grand Hotel and Casino. It wasn't until 1990 that he performed his last show in Vegas.
Martin died in 1995, having made his mark on American entertainment for nearly half a century. Even now, Martin has popular songs like "Ain't That a Kick in the Head" ringing around homes. The King of Cool was a comedian, singer and actor all in one bundle, who most certainly knew how to make audiences smile.
--