The Most Distinctive Part of Macau Skyline
Published on March 29th, 2021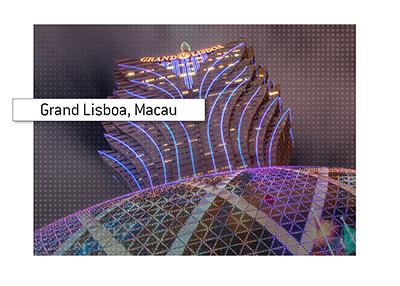 The Grand Lisboa hotel is one of the most famous areas in Macau. Owned by the Sociedade de Turismo e Diversoes de Macau (Tourism and Entertainment Company of Macau Limited) under Stanley Ho and his family. Opened in 2007, it has become the most distinctive part of the skyline in the city known for gaming.
The hotel and surrounding venues (including the restaurants and casino) were designed by Dennis Lau and Ng Chun Man, architects from Hong Kong. It is the tallest building in Macau and is covered in LCD screens. Both during the day and night, it makes for a breathtaking sight. While the newer elements of the hotel might be recent, both the hotel and the casino are much older. They were originally built in 1970 alongside one another. Back then the casino was 3 stories tall and the hotel was 12 stories. Now they also have the top restaurant in Asia in the form of Robuchon au Dome.
The casino proper is nearly 100,000 sq feet and has one of the largest table game layouts. There are 800 different gaming tables available and 1,000 slot machines all around. The Grand Lisboa casino was the first in Macau to offer Texas hold'em poker and craps, although it is no longer the only one to do so.
Gambling is what draws people from all over to Macau. The Grand Lisboa is a core part of that culture. It lights up the skyline, has one of the top restaurants in the world and allows for people to gamble everything they have in their casino. What more could one desire?