Dave Chappelle - Award Winning Actor, Producer and Stand-up Comedian
Published on March 30th, 2021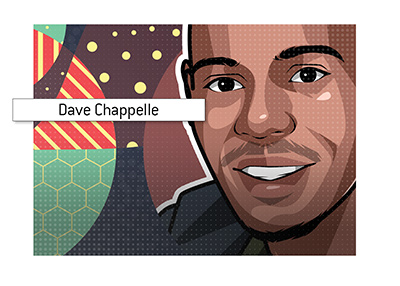 Dave Chappelle is one of America's most famous comedians in the modern era, having been performing stand-up routines for nearly 2 decades by this point. He's also made various films, as both an actor and producer.
Chappelle first started gathering attention when he appeared on Russell Simmons' Def Comedy Jam on HBO at the age of 19. That same year, he made an appearance in Mel Brooks' Robin Hood: Men in Tights (1993). By 2003, he had his own show on Comedy Central called Chapelle's Show. After a brilliant start to the show, he faced issues with the second and third seasons, claiming that it was ruining his life.
Here was where Chappelle's Vegas career started. In 2005, he made an appearance at the HBO and AEG Live Comedy Festival in Las Vegas. Specifically, this would occur at Caesars Palace. The show was successful, but it would set the tone for a decade of infrequent comedy appearances and a general disappearance of one of the most promising comedians of the early 2000s.
By 2015, Chappelle was experiencing a renaissance. He signed a deal with Netflix to release 3 new stand-up comedy specials, while he hosted Saturday Night Live in the aftermath of the 2016 presidential election. He won an Emmy for that appearance, with another 2 Grammy's to follow in the next 4 years.
Chappelle has most certainly had an up-and-down career. He's had his own show and performed in Vegas, yet also disappeared for years. His topics are often political and scathing, yet full of humour at the same time. Whether he can continue this spree of success is yet to be seen. But it is good to see him again.
--