A Gambling Giant in the Ocean - The Norwegian Escape
Published on April 22nd, 2021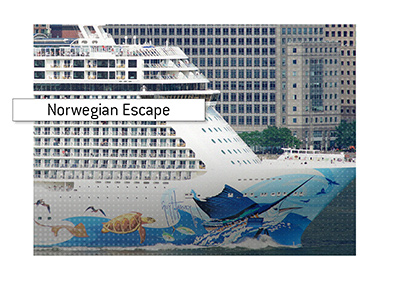 The Norwegian Escape is a cruise ship in the service of the Norwegian Cruise Line (unsurprisingly). It is a Breakaway Plus-class cruise ship that was launched in August of 2015, before finally entering service in October of that same year. A giant in the ocean, the Escape regularly takes passengers up and down the east coast of the United States and into the Caribbean.
Just about anyone can find entertainment on this ship. Whether it is the pool on deck 16 or the mini golf course that are 2 decks above. There is a movie theater and gaming area, with spas and salons available as well. Fair to say, there is plenty to do while you cruise around some of the world's most beautiful waters.
For those who are interested in spending some money in order to earn some more money, the Escape has a casino located on the 7th deck. It is Norwegian's largest casino to date and offers an excellent range of activities and games. There are slot machines that range from 1¢ - $100 USD, while table games offer buy-ins ranging from $5 - $5,000 USD. These table games include roulette, poker and other staples that you would expect to find in a land-locked casino. There's even an exclusive VIP area that will offer even higher stakes gambling for those who want it.
The Norwegian Escape can clearly service those gamblers who wish to test their luck under the Caribbean sun. Whoever wishes to do so need only sign up.