Charles Barkley, Ben Affleck, Floyd Mayweather Top The List
Published on May 9th, 2021 2:49 pm EST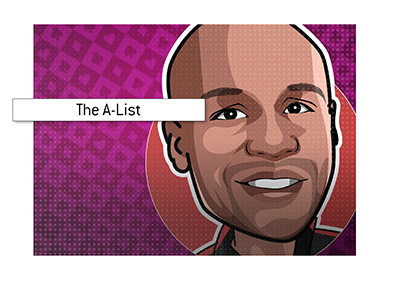 Some of the biggest stars in the world - including the likes of Ben Affleck, Leonardo DiCaprio and Matt Damon - love to gamble.
Some have achieved a decent amount of success while gambling - Ben Affleck has won a major poker tournament, Matt Damon has played in the World Series of Poker and Tobey Maguire is reportedly a very big winner in private Hollywood poker games.
Here is a list of some of the biggest celebrity gamblers, in no particular order:
Floyd Mayweather.
Mayweather doesn't seem to bet as much as he used to, though 4-5 years ago he would regularly post pictures of his multi-million dollar bets via his Instagram account.
Mayweather would have a preference for betting on big events, such as the Super Bowl.
Ben Affleck.
Ben Affleck is actually a very good poker player.
In 2004, he took down the $10k California State Poker Championship for $356,400, which was no easy feat.
Affleck's love of gambling reportedly got him into relationship trouble in the past.
Tobey Maguire.
As mentioned, Tobey Maguire was reportedly one of the biggest winners in the private Hollywood poker games that ran frequently a number of years ago.
In fact, the story of the games was made into a movie - Molly's Game.
Maguire reportedly won many millions of dollars playing these private games, so there is obviously no way of verifying that fact.
Charles Barkley.
Charles Barkley seems to have gotten control of his insane gambling habits in recent years, though he has been very candid of his issues in the past.
Barkley has said that he lost $1 million gambling "10-20" times in the past.
Barkley has achieved a great deal of success via his stint as an analyst on TNT, so thankfully he has been able to keep the funds flowing.
Michael Jordan.
Michael Jordan loves to gamble, and will gamble on anything and everything, from cards to golfing to if he will make a free throw.
In fact, a rumour that has made the rounds for years is that MJ was actually suspended by the NBA for gambling when he announced his first retirement from the league.
Dana White.
The President of the UFC lives in Las Vegas and is worth many millions of dollars, so it's not a surprise that he loves to gamble.
Dana White is known for his high-stakes blackjack playing, and has even been told by certain casinos that he can no longer gamble there due to his big wins.
Matt Damon.
Matt Damon appeared in the movie "Rounders" and has also participated in the World Series of Poker.
Matt Damon doesn't play nearly as much as Tobey Maguire, though he does like poker enough to turn up at the World Series of Poker.
Leonardo DiCaprio.
DiCaprio reportedly played in the high-stakes Hollywood games, though he was reportedly not as serious as the likes of Maguire and others.