Plinko Has Surged in Popularity Due To Its Simplicity, Big Potential Payouts
Published on September 18th, 2021 3:38 pm EST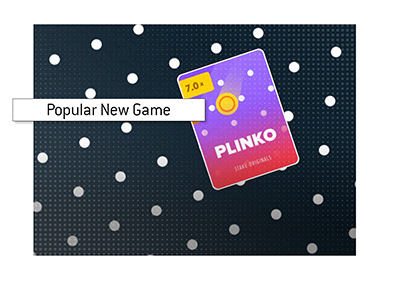 If you watch some of the bigger Twitch.tv slots streamers, you have likely seen them play Plinko on Stake.com.
The game has quickly become a favourite in the casino world, mainly due to its simplicity and potentially massive payouts.
If you watched the "Price is Right" game show, you likely saw them play the game Plinko.
With Plinko, you place a disc at the top of a board filled with pins. At the bottom, a number of different prizes.
The disc will make its way down the board, and you receive the corresponding prize based on where the disc settles.
-
Plinko on Stake.com works in the same way.
With modern technology, however, hundreds of discs can be sent down the virtual board in just a minute.
To play Plinko on Stake.com, you first start by choosing your bet amount. Be sure to choose a small amount, as the discs go fast.
After that, you will need to choose the number of rows that will be at the bottom of the board. You can choose anywhere from 8-16 rows - the more rows, the more your potential payout. On the other hand, there will be more potential bad payouts.
Lastly, you choose your risk level - Low, Medium or High. The lower the risk, the better the "worst" payouts, though the "best" payouts will pay out at a much lower rate.
So, for instance, let's say that you want to maximize your potential payout.
In this case, you would choose High Risk with 16 rows.
The bottom rows would pay out like this:
1000x
130x
26x
9x
4x
2x
0.2x
0.2x
0.2x
0.2x
0.2x
2x
4x
9x
26x
130x
1000x
So, if you are lucky enough to have one of your discs land on the 1000x payout, you would receive a massive 1000x multiplier on your bet.
-
If you want to automate the game, Stake.com will let you choose an "auto" button, and the discs will continuously slide out until you either stop or run out of money.
-
Plinko is beautiful due to its simplicity, and there is no wonder that the game has caught on so quickly.