Be Smart When It Comes To Your Cryptocurrency
Published on December 14th, 2021 10:04 pm EST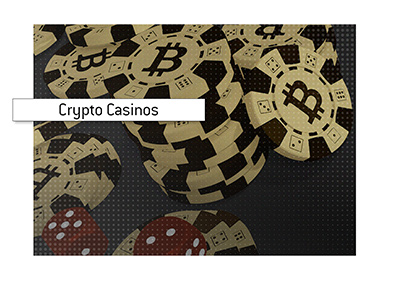 The integration of cryptocurrencies and online casinos has been a dream for online gamblers across the world, as it makes it much, much easier (and cheaper) to move your money off and on of sites.
The much-lower transaction costs (banks used to charge an arm and a leg for processing online casino transactions) results in more money in the hands of players, in the form of better promotions, rakeback, etc.
If you are using cryptocurrencies at online casinos, however, there are three very important tips that you should keep in mind to secure yourself.
The vast majority of online casinos are very safe, though you should still exercise caution.
-
1. Keep the bulk of your cryptocurrency in a "cold" wallet.
You should have a "cold" wallet (kept offline) where you hold the bulk of your cryptocurrency.
You should also have a "hot" wallet where you transfer smaller amounts of money from your cold wallet to your hot wallet and onto online casino sites.
You should never leave significant sums of money in your hot wallet.
2. Refrain from holding large balances on online casino sites.
If you have a good session and there is a bunch of money in your online casino account - transfer some or all of it out, and then transfer this balance into your cold wallet.
Sure, there are a few steps involved here, though it will ensure that the money remains yours.
3. Get in the habit of withdrawing and depositing often to take advantage of reload bonus opportunities.
Some online casinos will offer frequent reload bonuses, sometimes even on a weekly basis.
If you get into the habit of withdrawing and depositing often, you can often find yourself benefitting by getting lucrative reload bonus offers. This is money in your pocket, and you should take advantage.
-
If you follow these three tips, you will end up richer and safer and online casinos.