Some Casinos Pay Rakeback To Their Loyal Customers
Published on December 18th, 2021 2:23 pm EST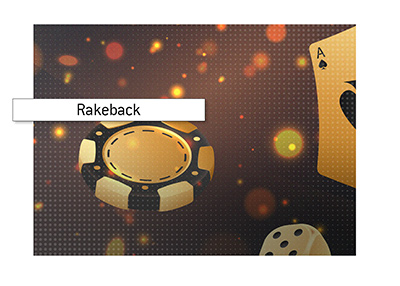 Some online casinos will offer their customers "rakeback".
What exactly is "rakeback"?
"Rakeback" is essentially when the online casino returns a percentage of your costs back to you.
When it comes to online casinos, this "cost" is the edge that the casino enjoys over you in a particular game.
For instance - let's say that your online casinos pledged to give you back 10% of the house edge for each bet that you make.
If a game has an edge of 5% and you bet a total of 1 Ethereum, you would receive 10% of the "edge" back as cash in your account.
To figure this out, simply multiply the casino edge by the amount that you wagered - so, in this case, this would come to 0.05 ETH.
Now, you get 10% of this back in the form of rakeback, so the casino would return 0.005 ETH to your account.
Casinos usually pay out this money weekly or monthly.
You won't have to do anything special to earn this money, other than qualifying for it by playing on the site.
Many online casinos will offer rakeback "levels" - the higher the level that you are at, the more rakeback you will enjoy. Again, the rakeback is tied to the edge of the game that you are playing, as well as the amount that you are betting.
The more that you bet, the more rakeback you will earn.
-
Why do online casinos offer rakeback?
The answer is simple - they want to retain your business.
The online casino business is very competitive, and rakeback is one of the ways that online casinos can return value to you in order to hopefully keep your business.
There are no catches - it's just a cost of doing business for the casino.