When Does The Casino Affiliate Convention Start?
Published on April 19th, 2007 8:39 pm EST
You would think that with the UIGEA passing in the United States, that interest in the Casino Affiliate Convention would be lighter than ever. Well, you can forget about that, as it is expected to draw over 750 people; affliliates to site owners to notable names in the industry.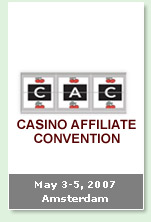 The event is set to take place between May 3 - 5, and is going to take place in Amsterdam.
In addition to the usual companies presenting there, there will be several interesting topics and discussions taking place, including:
-the future of the industry after the passing of the UIGEA
-how site owners and people in the industry can rally to try and repeal UIGEA or at least carve out an exemption for online poker
-how site owners can best target non-US customers
-how rakeback is affecting the poker industry
-marketing in the US in a post-UIGEA environment
The King is going to be unable to attend due to prior engagements, but he will be there in spirit! We hope that everyone that makes the trip has a great time. Don't partake in everything that Amsterdam has to offer!