Dennis Rodman Would Hit Las Vegas 20-25 Times Per Season
Published on April 15th, 2023 12:37 pm EST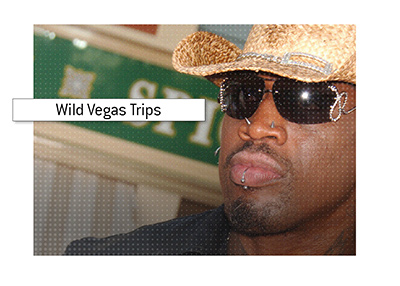 Prior to Dennis Rodman joining the Chicago Bulls before the 1995-96 season, Michael Jordan was asked if he was interested in bringing basketball's "Bad Boy" to the team.
Would it miss with team chemistry too much? Would the Bulls be able to manage Rodman, who enjoyed partying in Las Vegas more than almost anything?
Jordan reportedly said - absolutely, bring him in.
-
Rodman would play with the Chicago Bulls for three years, and the Bulls would win three straight titles.
The Bulls, however, had an almost constant headache when it came to dealing with Rodman.
According to reports, Rodman would take 20-25 trips to Las Vegas DURING the season.
In 1997-98, Rodman reportedly asked the Bulls for permission to take a 48 hour trip to Las Vegas during the season.
The Bulls okayed the request, though Rodman didn't make it back in time.
There were reports that Michael Jordan himself went to Las Vegas to retrieve the "Worm".
-
Rodman's trips to Las Vegas were as crazy as you can imagine, involving celebrities such as Carmen Electra and Billy Corgan.
Corgan, lead singer of the Smashing Pumpkins, would recount Rodman leaving for Las Vegas during one of the Bulls' playoff runs, and making it back just in time to play, having not slept at all for 48 hours.
Rodman, however, managed to perform at a super high level, as he averaged more than 15 rebounds per season during his three years with the Bulls.
Rodman would reportedly hit Vegas with an entourage of bodyguards and women, where he would gamble heavily and drive down the Strip in his motorcycle.
Then he would leave Vegas just in time to dominate for the Chicago Bulls.
-
The Bulls knew exactly what they were getting with Rodman, and it ended up paying off, as the Bulls were practically unbeatable with Rodman in their line-up.
Phil Jackson, Michael Jordan and the rest of the Bulls likely could have done without the headache of managing Rodman, though in hindsight, bringing him in was certainly worth it.
-
According to Rodman, over the entirety of his playing career, he only missed one game due to partying too hard in Las Vegas.