Free Penthouse Suites, Use of Private Jets Just Some of the Perks Given to Whales
Published on April 21st, 2023 2:08 am EST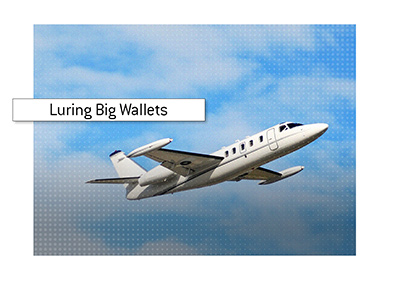 Do casinos spend big money to try to lure "whales" (gamblers with lots of money) to their games?
Absolutely.
This is a well-known fact - one that casinos don't try to dispute.
"Whales" have been known to drop millions and millions of dollars in a single weekend in a place like Las Vegas or Macau, so it stands to reason that casinos would try their best to lure these big wallets to their doors.
The question is - what kinds of perks do casinos offer these big players?
-
Here is a list of the different perks that "whales" can be given:
1. Penthouse suites.
You need a place to stay, and casinos will keep back their absolute best rooms for their biggest whales.
2. Free use of casino jets.
Do you need to be picked up from New York? No worries - we'll send our private jet to come and get you, at no cost.
3. Discounted losses.
Did you lose $2 million playing baccarat over the weekend? No worries - we'll give you 25% of your losses back.
4. Credit lines.
Don't have cash available? No worries - we'll give you a credit line of up to $5 million so that you can play. We know that you are good for it.
5. Food/drink vouchers.
You won't pay for anything when you stay with us - we'll take care of your food, your drinks, etc.
6. Exclusive tables/rooms.
Are you a celebrity or well-known businessman that loves to gamble?
Don't worry - you can play in our private rooms/tables, so that nobody bothers you.
7. Use of limos.
Need somebody to pick you up from the airport in a limousine? Need somebody to drive you around the city? We've got you covered.
8. Private concerts.
Want to watch your favorite artist perform in a private concert? If you have deep enough pockets, we'll set that up for you.
-
If you have deep enough pockets, these perks will also be available to you!