Confirm Your Win Before Celebrating
Published on April 30th, 2023 1:10 am EST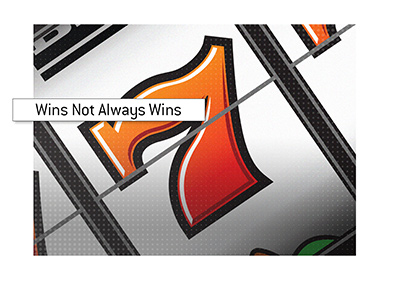 Imagine this scenario playing out.
You head to your local casino for a night of gambling and fun, and sit down at your favorite progressive slot machine.
After a bit of play, your life changes - you hit a massive jackpot.
You have won a massive jackpot - tens of millions of dollars.
You take a selfie and post the big win to Instagram - you're rich!
-
Before spending the money in your head, you NEED to get the win confirmed by the casino.
Two women learned the hard way that these massive "wins" are not always wins.
Take Katrina Bookman, who sat down at the Resorts World Casino in New York a number of years ago to play Sphinx Wild.
Bookman inserted 40 cents into the machine and couldn't believe her eyes - she had won almost $43 million!
Bookman went to collect her winnings, but was informed by the casino that they needed to examine the win. Bookman was told to return the next day.
-
The next day, Bookman received some terrible news - her "win" was the result of a malfunctioning machine.
The casino offered her a steak dinner and the amount that they claimed she had actually won - $2.25.
Bookman, teary-eyed, vowed to hire a lawyer and file a lawsuit.
-
The casino contended that every machine had a notice saying that a malfunctioning machine voids all bets.
Bookman and her lawyer first contended that she was owed the $42.9 million, and then they claimed that she was owed $6,500, which was the maximum payout for the machine.
-
There is no word on how things ended up resolving, as CNN covered her story years ago and didn't follow up on the outcome.
It's likely there was some sort of a settlement, though almost certainly for an amount that Bookman wouldn't have been happy with.
-
The lesson of this story - if you ever hit an absurdly big jackpot on a slot machine, make sure that you confirm your win with the casino before celebrating too much.