Akio Kashiwagi Nearly Broke Donald Trump's Casino
Published on April 30th, 2023 1:57 pm EST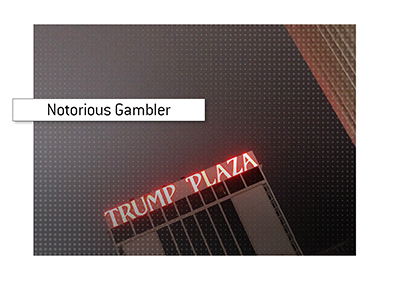 On January 3rd, 1992, noted casino whale Akio Kashiwagi, aka the "Warrior", was murdered in the kitchen of his Fuji home.
Kashiwagi, who inspired one of the characters in Martin Scorsese's "Casino" movie, was reportedly stabbed up to 150 times with a katana sword.
The case is still unsolved as of this day.
-
In the 1980s, Kashiwagi, a Japanese businessman who was reportedly worth many millions of dollars, started to make a name for himself in the casino world.
Kashiwagi was known for his legendary baccarat sessions, betting $100,000 per hand and playing up to 80 hours at a time.
For casino operators, these types of stories fill their eyes with dollar signs.
Future US President Donald Trump heard about Kashiwagi and extended an offer for the Japanese businessman to play at Trump Plaza, which was one of his Atlantic City casinos.
Come and play with us, Trump says, and we'll take good care of you.
-
Kashiwagi was extended millions of dollars in credit and offered use of one of the casino's opulent penthouses.
Over the course of a two-day betting binge, Kashiwagi won a total of $6.2 million, before abruptly leaving the casino.
This placed Trump's casino in "financial difficulty".
-
Trump wanted Kashiwagi back, as he wanted a chance to win his money back.
Trump (who details all of this in his book, The Art of the Comeback), enlisted the services of mathematician Jess Marcum.
Marcum helped to devise an offer for Kashiwagi that would give the casino a great chance of winning their money back.
Marcum determined that the longer Kashiwagi played, the greater the chances were that he would lose the money back.
Trump finally extended his offer - come back to the casino, put the $6.2 million back in play, and stay until you either doubled your money or lost the $6.2 million entirely.
Kashiwagi agreed, and the game was on.
-
According to Trump, Kashiwagi was up to $9.6 million early in the sessions, though eventually lost a total of $10 million.
According to Trump, the game was over when Kashiwagi won or lost $10 million.
According to Kashiwagi, the deal was that the game would be over when Kashiwagi won or lost $12 million, and Trump decided to end the game early.
Kashiwagi stormed off in a huff, still owing the casino $10 million (he was playing on credit).
Kashiwagi would reportedly pay back $6 million of the $10 million that he owed to Trump, and the $4 million would forever go unpaid.
-
The Japanese markets would eventually collapse, sending Kashiwagi's businesses into turmoil.
Kashiwagi's days as a "whale" would be over, and he would eventually be killed in his own home.