How Can I Play Roulette on My Phone?
Published on May 20th, 2007 9:01pm PST
Mobile gaming is becoming more popular by the day. Playing roulette on your mobile phone and having the opportunity to win money while waiting for the bus, while you are on your lunch break, at a bar with your friends or while relaxing with your spouse on the couch, how cool is that?
The King welcomes mobile gaming into our daily lives with open arms.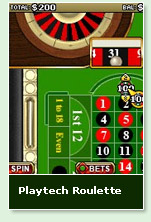 Here are are the options that you have at the moment for playing roulette on your phone or a PDA device.
Spin3 Software powered by Microgaming
Very cool interface and sweet graphics is what the King noticed first while checking out the Spin3 roulette software. Definitely worth a try.
Playtech Mobile Roulette
One of our sponsors, Casino Las Vegas, gives you the ability to take your game with you on your cellphone. Playtech's mobile software supports a large variety of handsets from all major brands. You have the option to play roulette for free or for real money. Check it out yourself by visiting Casino Las Vegas and downloading the software.
One issue that comes to mind with mobile gaming is security. You can rest assured that both Microgaming and Playtech deploy highest encryption methods available today. The protection standard is on the level with banks and government institutions. Your personal info is protected and safe.
If you decide to check out mobile roulette, the King wishes you best of luck.
Until next time, The King.