What Are the Advantages of Playing Online Roulette?
Published on October 4th, 2008 3:56 am EST
Everyone loves to go to Las Vegas. The glitz. The glamor. The shows. The restaurants.
However, these are trying economic times, and many people might not be able to afford to go to Vegas right now. The economy is sputtering. The price of gasoline prohibits a cost-effective drive to Sin City from other parts of the United States. Flying is also expensive, with ticket costs and baggage fees and other extra, unexpected costs.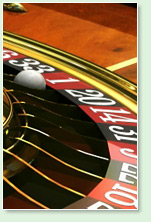 The good news is that online roulette has a number of advantages over playing in Las Vegas. Here is a short list:
1.
Zero additional costs involved in playing online.
You don't have to pay for airline tickets or hotel fees or any other of the costs involved in making the trek to Las Vegas.
2.
You can play in your pajamas.
Can you say comfortable?
3.
You can learn the game without embarrassing yourself.
It can be pretty intimidating to step up and put your bets down in Las Vegas if there is a big group of people watching. With online roulette, you can learn the game at your own leisure without fear of embarrassment.
4.
Bonuses.
All online casinos will offer generous bonuses in order to gain your business. You think that the Bellagio is going to give you a $1000 bonus for buying $1000 in casino chips? No way - online casinos will though. The hyper-competitive world of online casinos certainly plays to the customers advantage.
5.
You can play whenever you want.
Flying to Vegas involves booking the flight, finding someone to watch your kids, taking time off of work, booking the hotel, saving up for the trip - playing at an online casino involves putting your feet up on the desk and logging in. For someone that may just want to play for an hour and go to bed, this is a major plus.
Playing at an online casino can be a great way of familiarizing yourself with a casino game before you go to Vegas to play the "real" thing. Logging a number of hours online will make you much more confident when it comes to stepping up to the rail and putting your bets down in Vegas. Online casinos are safe to play at and plenty of fun - plus, you benefit from matching bonuses that will help to build your bankroll.
Online casinos and "live" casinos in Vegas both have their pros and cons - why not play at an online casino until you find the time to head to Vegas, and get the best of both worlds?