How Can I Win at Roulette?
Published on December 15th, 2008 2:08 pm EST
Are you new to online roulette?
Not entirely sure how to maximize the chances of actually winning some money?
Here are some pointers from the King - some ways in that a beginning player can maximize their odds of actually pulling in cash..
1. Bonuses. If you aren't fully taking advantage of some of the lucrative bonuses that are being offered by the major online casinos, then you are crazy.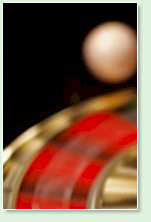 Online casinos are desperate for new players and will spend tremendous amounts of money to build up their client base.
Many casinos offer between $500 - $800 just to sign up and deposit. You need to take full advantage of these offers, and by that I mean, maximize the size of your initial deposits (many casinos offer matching bonuses) and play at more than one room. Free money is free money, and if you are depositing $25 to get started, then you are likely missing out on hundreds, maybe even thousands, of free dollars.
2. Know the right games to play.
What do I mean by this? It's simple.
European roulette wheels offer a player a BETTER chance of winning than an American roulette wheel.
Always make sure to maximize your odds before you even sit down at a game. Playing with certain wheels is just throwing away money.
3. Practice bankroll management. Don't blow all of your money on two spins. Divide your bankroll up into 100 pieces (for instance, if you have $1000, bet at the most $10 per spin). The worst thing that you can do is get mad at not winning and start rapidly increasing the size of your bets. This is a recipe for disaster, and not recommended.
4. Have fun! Playing at an online casino is all about having a good time. If you are taking it too seriously, then you will inevitably "tilt" off your bankroll and have to start from scratch. Just enjoy!