Comps Are Available From Online Casinos
Published on
You don't have to travel to Las Vegas to get "comped". Comps are available in the hyper-competitive world of online casinos as well.
First off - what exactly is a "comp"?
A "comp" is a complimentary item that is given to a customer by a casino.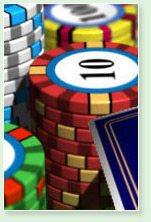 In a "brick and mortar" casino, this can be complimentary food, drinks or maybe even a hotel room to sleep in.
in the online casino world, a "comp" normally translates to cold, hard cash.
The online casino world is very, very competitive. The faster that you realize this, the faster that you can start taking advantage.
Online casinos will lure customers with the promise of lucrative sign-up bonuses. This is fine and good, but also realize that many online casinos will continuously ply their customers with reload bonuses in order to keep them active.
Many online casinos will offer you hundreds of dollars in monthly (or even weekly) reload bonuses. This is on top of the monstrous sign-up bonuses that many of the rooms offer.
What exactly is a reload bonus?
Let's say that you deposit $200 on January 1st. Many casinos will offer a reload bonus of between 50-100% on a monthly basis, up to a maximum of $100-$200. So if your casino offers you a reload bonus of 100% up to $200, then they would award you with a $200 reload bonus if you deposited $200. This is free money in your pocket, and should certainly be taken advantage of. Once February rolls around, these same casinos will normally present you with the same offer as they did in January.
As an online casino customer, you need to realize that you are extremely valuable in the eyes of the online casinos. Online casinos would do just about anything to ensure that you don't jump to another casino.
If you are a high volume player, then you need to take this one step further. Email the casino and ask if there is a VIP club. Ask if you can receive any additional benefits for being such an active player. Why not? What's the worst that they could say? No? They don't want to lose your business, so chances are they will present you with something nice in order to entice you to keep playing.
"Comps" - they aren't just available in Las Vegas. They are also available at online casinos as well.