Using Reload Bonuses To Build Your Bankroll
Published on February 19th, 2009 8:47 pm EST
First off - what is a reload bonus?
A reload bonus is different than an initial deposit bonus.
Reload bonuses are available to you once you have taken advantage of initial deposit offers.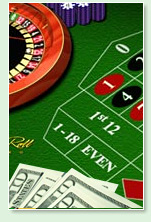 For instance - an online casino might offer a 100% reload bonus of up to $500 for existing customers.
This simply means that you will be eligible (subject to standard play-through requirements) for an additional 100% bonus, provided that you deposit on the site for (at least) a second time.
If you are a skilled and successful online roulette player, then these reload bonuses can add up to significant amounts of money that you can use to line your pockets.
Many online casinos will frequently offer reload bonuses to their clients. If you are a "VIP" client (meaning, you play frequently), then you will be eligible for even more lucrative reload bonus offers.
If you don't see any reload bonuses listed on your favorite online casino's website, then I would suggest sending an email to them.
Tell them that you want to play more on their site, but that you were wondering if they would be able to offer you any type of reload bonuses going forward.
There are no strings attached with a reload bonus - all you have to do is fulfill the playing requirements when it comes to unlocking the bonus, and then the money will be yours.
Again - don't be afraid to ask your online casino if they offer any sort of an ongoing reload bonus.
If they don't, then there are plenty of online casinos that do. Look around and find yourself the best deals.