Playing The Game of Roulette in Monte Carlo Casinos
Published on March 6th, 2009 5:16 am EST
Francois and Louis Blanc brought the modern roulette wheel that we see today to France in the 1800's and the famous Monte Carlo Casino. Charles the III of Monaco invited the Blanc's to set up Roulette in Monte Carlo, which they promptly named their casino after him. Monte Carlo actually means Mount Charles.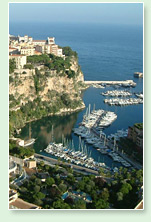 The Monte Carlo Casino is one of the most famous tourist attractions and you will see a lot of well known names at this Casino. The roulette wheel is actually a french word meaning "small wheel". A list of how you can bet on roulette includes a bet on one number only, called a straight-up bet, pays 35 to 1, a two-number bet, called split bet, pays 17 to 1, a three-number bet, called street bet, pays 11 to 1, a four-number bet, called corner bet, pays 8 to 1, a six-number bet, pays 5 to 1, a bet on the outside dozen or column, pays 2 to 1, a bet on the outside even money bets, pays 1 to 1.
Playing roulette in Monte Carlo is the ultimate vacation. A beautiful city in a beautiful country nestled between the Riviera and Italy. It has a beautiful view and hosts royalty, celebrities and a vast amount of foreign vacationers. It has sunshine 300 days a year. What better way to spend a vacation with the center attraction of playing roulette. When playing roulette the dealer will spin the wheel then place the ball while it is spinning into the wheel. Your breath is taken away while waiting on the ball to fall into you favorite number or color. Once the excitement of the ball falling is over you now have the excitement of actually seeing it land on your number, depending on how you bet you could actually pay for your vacation. Wow what a bargain of entertainment. The excitement the beautiful ocean the sunshine and let us not forget the people. A vast amount of people would love to visit Monte Carlo just for the beauty, but the ultimate prize is playing the game that made it famous, roulette.