When you Play Win@ Roulette, Bet on Having Some Fun
Published on March 25th, 2009 - 12:41pm PST
If you take a walk through a Vegas casino, you can always find people crowded around a roulette table. You can feel the anticipation as people watch in excitement as the little ball rolls around a wheel of red and black numbers, while each person is hoping that the ball lands on his or her number or color where they have placed their bet. Well, you don't have to fly to Las Vegas to enjoy the thrills of spinning the roulette wheel. All you need to do is pull out your Blackberry and play Win @ Roulette from Sprite Interactive. This fun casino game, which is part of the Win@ casino series, will put you right into the gaming action with animated spins of the wheel, expert tips from professionals and realistic crowd sound effects.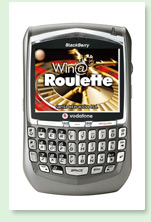 You don't have to be an expert at roulette to enjoy this game. Hints are always available and if you are new to the game of roulette, the game rules are explained so you can fully understand how the game is played. You can bet red/black, odd/even, and also line and column bets. Betting terms such as Straight-up, Split, Street, Corner, Six Line and Trio are explained in detail so you can decide exactly how you want to proceed with your bet. With the probability tables, the odds of your bet winning are broken down, so you can see exactly where you have the best chances of winning when you place each bet. You even get to choose between US and European roulette table styles.
When you play Win @ Roulette you get expert playing tips from professionals that can increase your chance of winning big. The game is very user friendly and easy to use, with your bet and how much money you have being displayed at the top of the screen. The graphics are bright and colorful, and the menus are easy to navigate. No matter if you have never played roulette before, or if you are a pro, you are sure to enjoy this fun casino game. With Win @ Roulette, you can enjoy Vegas roulette excitement right from the palm of your hand!