Tips for Playing Roulette in Macau
Published on April 11th, 2009 - 7:34pm PST
Macau is famous throughout the world as being the Las Vegas of Asia. But really, it is not much like Las Vegas at all, except that it is the most popular place in all of Asia to gamble. And the city is growing all the time! There are over thirty more casinos that are going to be built in Macau over the next couple of years, and this year, it is expected that Macau casinos will generate more than five billion dollars, which is more money than Las Vegas casinos generate!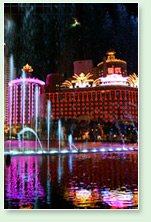 So if you are looking to play roulette in Macau, currently, one of the best Las Vegas style casinos to play in is the Wynn. This is because the Wynn Hotel has high-stakes European roulette with the "en prison" rule, which is much more favorable to the better.
Roulette is played in Macau pretty much the same way that it is played throughout the world, except that there is only one zero on the wheel, which actually makes it a little bit easier to win at roulette in Macau. Since the wheel is different than what most people are used to, players are given a chart that shows the sequence of the numbers on their roulette wheel. The chart will also show winning numbers from the last several games at that table.
Here are some tips if you want some tips for playing roulette in Macau. The wheel is the same as European roulette, so there is only one green spot on the wheel. The outside bets will give you the best odds for winning, so do not do too many long shots. Betting on a color gives you near-even odds, especially if the casino you are at has 'en prison' bet in play. European roulette gives the house a lean 2.7% edge, so these tables are more fun for the player than American roulette is. Another tip is to know when to walk away. You will never do much better than tripling the amount of money you started with, so that is always a good time to leave.
In Macau, most of the casinos have much higher bet minimums on roulette that there are in the United States, making it more of a risk to choose a long shot. Overall, in most casinos in Macau, roulette is slightly less popular than other games, and it is probably because of these high minimums.