Playing Roulette at the MGM Grand Hotel and Casino in Las Vegas
Published on April 14th, 2009 - 12:15pm
When you step inside the MGM Grand Hotel and Casino you will be amazed. The MGM Grand is so big and luxurious "grand" is an understatement. MGM Grand Hotel and Casino is over 6 acres of fun. When you first enter MGM Grand you do not realize how expansive the casino is. There is a convention center, CBS Television City, many shops, nightclubs, the MGM Grand Garden Arena, the Grand Spa, and 16 restaurants all inside the MGM Grand.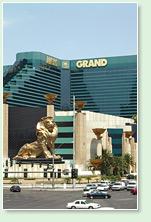 The Casino inside MGM Grand is also huge and amazing. The MGM Grand casino is over 150,000 square feet, and is the largest casino in Clark County. The MGM Grand offers some of the best odds in Las Vegas. No Matter what type of gambling you are looking for the MGM Grand is sure to offer it. The offer all the standard table games including roulette, they also have all the newest slot machines, and great race and sports book.
When you play the table games at MGM Grand Casino, they make you feel like you are a celebrity. Roulette is a very fun table game because it is so easy, anybody can play. Roulette is one of the most poplar table games at the MGM Grand so you will always find a large number of people playing it. If you plan to play Roulette at MGM Grand or if you are going to do any other gambling be sure to join the MGM Mirage Players Club which will offer you great benefits the more you play.
Staying at the MGM Grand keeps you in the center of all the action. There are over 6000 rooms, and many of them are suites. When you are staying at MGM Grand along with their fabulous rooms you will get to enjoy their other amenities including their 5 pools, waterfalls, and rivers.
If you want a break from roulette you won't be left wondering what to do. There are many attractions at MGM Grand that will interest everyone. The Lion Habitat is a free attraction that is always fun to go see. You can get up close to majestic lion, and all that is separating you is a piece of glass. The MGM Grand Hotel and Casino offers many shows and events. They have a huge Grand Garden Arena where they feature some of the biggest performers that you can find in Las Vegas.