Review of Casino Lisboa in Macau
Published on April 16th, 2009 - 9:07pm PST
The world class Hotel Lisboa Casino is located in the historic district of Macau China and is famous for its mix of modern conveniences and melded with traditional ambiance. The Casino Lisboa has also been solely responsible for a large percentage of all of Macauís casino revenues and has even out earned Las Vegas in casino revenue. It is the largest of all of Macauís casinos.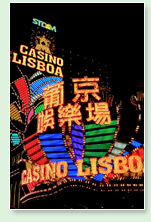 The Casino Lisboa is open twenty-four hours a day and is located at 2-4 Avenida de Lisboa, Macau China. The welcoming bright lights of the casino illuminate the evening sky and invite the novice player a wide selection of gaming options, from slots to craps and Baccarat to roulette. If roulette is your game, then the Casino Lisboa is the place for you.
The object of the game of Roulette is to choose which number will appear on the wheel. Combination bets of more than one number and or choose of color or even or odd are also allowed. Sounds simple, but it is not as easy as it may appear.
The European wheel consists of 37 slots, which are numbered from 0-36, and offers the house an edge of 2.63.
Roulette originated in France in 1842 and the original layout is still used today. The Roulette wheel has two betting areas. The inside betting area consists of individual numbers on the layout and the outer betting area contain columns, red/black, odd/even and other groups of numbers. The inner betting area consists of 12 rows that form three vertical columns.
Roulette is played with chips, which must be purchased prior to sitting down at the table to play and are generally only good for that table and must be cashed before leaving the table and exchanged for regular casino chips.
Each table will have a maximum and minimum allowable bet. You are not allowed to combine your outside and inside bets in order to reach the table minimum. For example, if the table minimum is $5.00 you are required to bet $5.00 on the inside and $5.00 on the outside. You can not bet $2.00 on the inside and $3.00 on the outside to meet the minimum.
There are those that claim they have the guaranteed system for winning at Roulette. The truth is this is a game of chance where the house always holds the edge and no system will ever alter that.