Edgewater Casino: Small Casino, Big Winner
Published on April 18th, 2009 - 10:13pm PST
In the heart of the gem of Canada's most infamous metropolis Edgewater Casino offers the fun of Vegas in the sleek urban empire of Vancouver. A quaint casino only in perspective to the mammoth monsters of Vegas, what Edgewater Casino lacks in size, it certainly makes up for in heart.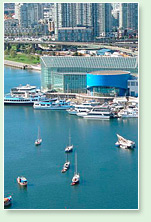 The dealers are extremely friendly and give you the warm fuzzy feeling of a welcome and important guest. The security is effective but without that uncomfortable maximum security feeling.
The bartenders are experts. Throw a couple tough orders at them, they are top notch and will never cease to impress. The slots are looser that many I have been to. I noticed quite a bit of winners. I was thoroughly impressed with the amount of table games that were offered in such a small casino. Three card, craps, roulette, black jack, and poker are available in many formats and betting limits to accomodate a large variety of gamblers. The Poker Room was by far my favorite. They use a very effective wait list program to get you to your table of choice quickly and fairly.
The Poker Room is classy and lacks that smoke-filled dingy basement feeling that many Poker Rooms have. The drinks are dirt cheap and free for the players just as all great casinos provide. I was very happy with the service of all the staff and that is surprising because I usually find at least one area that performs at a less than stellar level of excellence. If you are visiting Vancouver for business or pleasure, indulge in the pleasure side of the city with Edgewater Casino. With easy access, convenient transportation, helpful staff, and a great casino charm without the giant corporate feel; Edgewater Casino is devious fun in the Pacific Northwest. Besides, the weather in Vancouver is almost always pleasantly mild.