Norwegian Cruise Line Casinos
Published on May 3rd, 2009 - 1:25am PST
Norwegian cruise line offers many great cruises, and all of the cruises at Norwegian cruise line offer freestyle cruising. One of the great benefits of Norwegian cruise line's freestyle cruising is their casino's. Nothing is better then spending a evening on a beautiful cruise ship, while having fun gambling.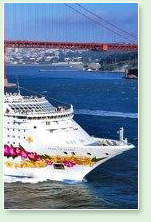 The casino's on Norwegian cruise line ships are large and feature all the typical games that you would find in a standard casino. The Norwegian cruise line casino just has the added benefit that you are getting to play, in a floating casino while you travel to your next beautiful destination.
The casino on each Norwegian ship differs slightly but every ship offers roulette, blackjack, several different kinds of poker, and slot machines from 2 cents to 100 dollars. The Norwegian cruise line casino offers a very special players club, called the At Sea Players Club. The benefits of the At Sea Players Club are amazing. If you plan on doing any gambling while you are on the ship, be sure to become a member of the players club. When you are a member of the players club you earn Seabucks based on your play. You can spend your Seabucks for purchases anywhere on the ship, or apply them to your next cruise.
Roulette is always a popular game in the Norwegian cruise line casino's because it is so easy to play, and it makes a very fun group game. Roulette doesn't offer the best odds, but you have many chances to win big. Roulette is a very fun game, that is very easy to learn. If you don't understand all the different bets, there are many gaming lessons that Norwegian cruise line offers to help you learn your favorite games. What could be better then spending time on a beautiful cruise while gambling in the casino? Spending time on your special cruise and hitting your lucky number on roulette.
When you are on a Norwegian cruise line ship there are many things to do, but make sure you don't miss the casino. With Norwegian cruise line's freestyle cruising you will find it easy to spend time in the casino playing roulette and all your favorite games. When you are cruising the destinations are wonderful, but you can have even more fun getting to your destinations when you spend time enjoying everything the ship has to offer, including a fun casino.