Definition of Croupier
What is the definition of a "croupier" as it applies to the world of roulette? What is the definition of the term "croupier"?
In roulette, the "croupier" is another name for the dealer or attendant who runs the roulette table. The "croupier" will spin the roulette wheel, collect bets and pay out bets after each spin.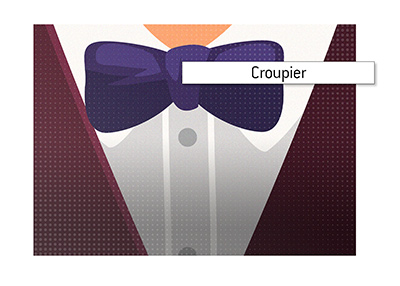 In brick and mortar casinos, each roulette table is staffed by a human croupier.
In online casinos, sometimes the croupier is the software and sometimes, in the case of online casinos with "live dealers", the croupiers are real people who are being filmed in real time. Live dealers in online casinos have become increasingly popular in recent years, as players feel that it replicates the experience of sitting in a live casino. The benefit, of course, is that you can play in your pajamas online, which is why the "live dealer" phenomenon has proven to be so popular over the recent years.
Croupiers must be quick and efficient in order to maximize the number of spins that are performed for the casino. A skilled croupier is worth his/her weight in gold, as roulette is obviously a game in which the casino has the advantage. More spins equals more money for the casino. In addition, a good croupier will be charismatic and fun will still managing an efficient game.