Where Can I Play Crash?
Click Here To Play Crash on Stake.com!
Crash is a deceptively easy to play Stake.com Original game that is also very addicting.
There is also a social element to the game, as you can see what other players are betting and how much they have made.
-
How Does Crash on Stake.com Work?
It's pretty simple.
A small icon will move across a grid, and this icon is meant to symbolize a rocket.
With each round, the rocket will travel for a random period of time before crashing.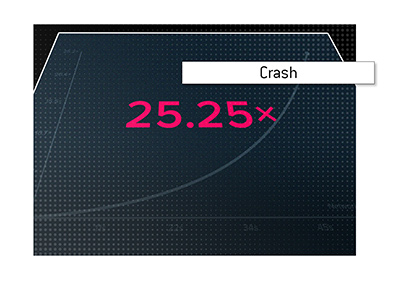 With each passing moment, the amount of the potential payout will increase as the rocket travels across the screen.
The trick is cashing out before the rocket crashes, as if you haven't cashed out by that time, you will lose your bet.
If the rocket immediately crashes, your potential payout might be something as small as 1.07x.
If the rocket doesn't immediately crash, you could be in line for a potentially massive payout.
For instance, in the round that I just witnessed, the rocket landed for a considerable period of time before crashing, which created a 26.46x payout, meaning that a potential $100 bet would have translated into more than $2,500.
That is the entire strategy of the game - do you look to immediately cash out, or do you hold out for a potential major win?
The Betting Round
Stake.com will give people 5 seconds to get their bets in before the next round begins.
Once this 5 second period is over, bets are frozen until the next round.
When the round begins, you can cash out manually at any time, or you can choose to cashout at a predetermined amount - for instance, at 3.x.
As the icon moves across the screen, you can see which of the other players in your round have cashed out, and which remain in the game.
You can also choose to auto bet and auto cashout, meaning that you don't actually have to bet at your computer to participate.
You can also use fiat currency or cryptocurrencies to play in the game.
What is the proper strategy for this game?
To be honest, there is no set-in-stone strategy for playing Crash on Stake.com.
Some people like to jump in for a quick game, take a small payout and move on to some of Stake's other offerings.
Some people like to hold on for a potentially big payout - something like 10-20x.
Other people like to employ a Martingale type strategy, where they will look for a 2.0x payout and increase/decrease bets accordingly.
-
There is a social element to this game that helps to elevate its popularity as well, as you can view what other players are doing.
In fact, if you believe that there is a player that you feel has a solid strategy, you can mirror their style in order to mirror their results.
-
Stake.com has a knack for creating simple games that are very fun to play, and Crash is no different.